Who can apply
The AHP Careers Fellowship Scheme will accept applications from registered and non registered staff from the following professional groups:
Art therapists
Dance movement psychotherapists
Diagnostic radiographers
Dietitians
Dramatherapists
Music therapists
Occupational therapists
Orthoptists
Podiatrists
Physiotherapists
Prosthetists and orthotists
Speech and language therapists
Therapeutic radiographers
FAQs for guidance, details, and timeframes
For more details about the scheme, how it works, the review panel and timeframes for 2022/2023 please see our Frequently Asked Questions FAQs [PDF]
Work-based projects
An AHP Fellowship will fund your release for up to 2.0 days per week over 10 to 12 months (or it could fund additional hours if you currently work part time). You will be part of a cohort of Fellows participating in a learning programme and doing a work-based project.
Your work-based project should be something that…

you want to do, feel enthusiastic about and can evidence needs to be done
you've already discussed with, and sought buy in from, others who will need to be involved e.g. colleagues, your team, line manager, service heads and relevant others
is team, service, organisation, or region wide. We'll also consider national projects;
can be achieved over 10 to 12 months
is innovative, is about change and development and/or building on learning, not simply a continuation or expansion of existing service delivery and
contributes to local or national strategies and priorities.
The Scottish Allied Health Professions Public Health Strategic Framework Implementation Plan: 2022 to 2027 was launched recently. Therefore, this year, we are particularly interested in receiving applications that support the AHP contribution to the Scottish Public Health agenda and which may relate to one of the following four broad areas of Public Health: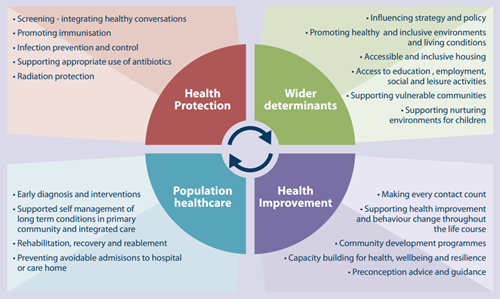 Wider determinants – also known as social determinants, are a diverse range of social, economic and environmental factors which impact on people's health and wellbeing. Addressing the wider determinants of health and wellbeing has a key role to play in reducing health inequalities. Examples can include promoting healthy and inclusive environments and living conditions; and access to education, employment, social and leisure activities. 
Health Improvement - describes the work to improve the health and mental wellbeing of individuals, communities or populations through enabling and encouraging healthy lifestyle choices and developing resilience. Examples can include supporting behaviour change throughout the life course. 
Population healthcare – aims to maximise value, equity and good outcomes by focusing on the needs of the population and delivering person centred services across the entire health and care system. Examples can include rehabilitation, recovery and reablement; and supported self-management of long-term conditions in community and integrated care. 
Health Protection – aims to protect the population's health from communicable diseases and other threats, while reducing health inequalities. Examples can include screening, radiation protection, and health checks (Source: UK AHP Public Health Strategic Framework 2019-2024, ahpf.org.uk).
See the FAQs above for more information about how AHPs contribute to Public Health Priorities for Scotland. We also remain open to applications about other strategies and priorities as usual.
It's never too early to start discussing your work-based project ideas with your colleagues, team leader and, of course, with us. We recommend that you email AHP.Fellowships@nes.scot.nhs.uk to set up a time for an informal chat.
Examples of previous projects
If you are looking for inspiration here are some examples of the projects AHP Fellows have done in previous years. You can also look out for blogs from current Fellows on AHPs across health and social care. (wordpress.com)
Cohort 1 (commenced April 2019) [PDF]
Cohort 2 (commenced April 2020) [PDF]
Cohort 3 (commenced April 2021) [PDF]
Cohort 4 (commenced April 2022) [PDF]
Posters
Cohort 2 and Cohort 3 [sway.office.com]
NHS Forth Valley [PDF]
NHS Fife [PDF]
NHS Lothian [PDF]
NHS Lanarkshire [PDF]
NHS Grampian [PDF]
Animations
NHS Lanarkshire
AHP CF – Joanne Gibson 
NHS Forth Valley
AHP CF – Patrick Gilmartin
NHS Tayside
AHP CF – Lynne Sheridan
NHS Dumfries & Galloway
AHPCF Debra Little Biteable from NES on Vimeo.
NHS Greater Glasgow and Clyde
AHPCF Rhona Burch Biteable from NES on Vimeo.
NHS Tayside
AHPCF Wendy Meldrum Biteable from NES on Vimeo.
NHS Dumfries & Galloway
Kirsty Paton, Assistant Practice Educator, Dumfries & Galloway from NES on Vimeo.
Useful information for application
You may also wish to make reference to local policies and initiatives.
Project management guidance
Guidance documents to assist AHPs with management of projects
The following documents will provide AHP Careers Fellows and other AHPs with guidance in developing and managing projects.
The QI Zone
The Quality Improvement Zone on Turas Learn provides information and resources to support people at all levels of experience to develop their knowledge and lead QI projects
Project management guidance
Tools and templates
Contact us
AHP.Fellowships@nes.scot.nhs.uk
Web Page updated 24 August 2022