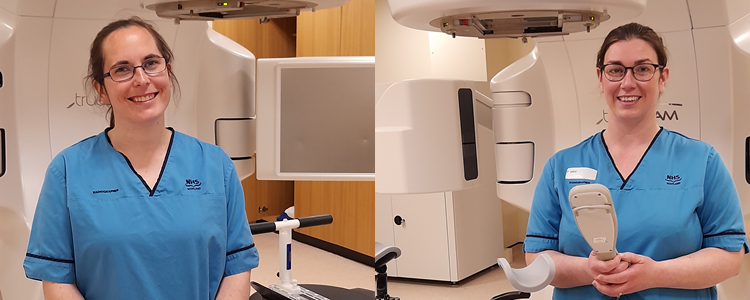 Fellows showcase work to Chief AHP Officer
In 2021/22, 32 Allied Health Professionals (AHPs) from the health and social care sector in Scotland have completed our AHP Career Fellowship scheme.

To be awarded a fellowship, participants lead their own rehabilitation/recovery focused work-based project over 10-12 months to improve, change or develop AHP services. The 2021/22 theme was COVID recovery.

Therapeutic radiographers Fiona Kennedy and Kelsey Normand, based at Ninewells Hospital Cancer Centre, were two of the participants.

Fiona and Kelsey had the chance to present posters of their work to Chief AHP Officer, Carolyn McDonald when she spent the day at Ninewells Hospital.

Fiona developed a digital prehabilitation package for prostate cancer patients, detailing important information for them to know before coming for their radiotherapy planning scan.
Team leader Fiona, said:
"I am passionate about patient participation, and I hope that this resource will reduce the need for patients to come into hospital for repeat scans, which is beneficial as COVID continues to circulate. It also means that patients will have less radiation exposure."
Kelsey created an animation highlighting the need for sustainable training during COVID and beyond.

She built a virtual resource to support radiography staff who treat cancer patients. This maintained their clinical competencies in 4d-CT scanning without needing to be physically based on CT to update their learning.

Advanced practitioner Kelsey said:
"Although inspired by COVID, I hope my project can be useful in addressing the link between clinical competence and a physical place/ piece of equipment, and the limitations that this creates."
Audrey Taylor, Principal Educator, NES said:
"It's always great to showcase the work of our Career Fellows and the projects submitted highlight the important role AHPs have in health and social care. Congratulations to Fiona, Kelsey and all 2021/22 Fellows."
Adapted from an NHS Tayside news item.
---