This information, links and sign-posting accompany the educational resource Equal Partners in Care (EPIC) and associated resources on Turas Learn: Person-centred care zone, which has been designed with the understanding that different health and social care professionals will have varying levels of opportunities to engage with unpaid carers in their roles.
The aim is to make a positive difference and improve outcomes for carers and the people they care for and is funded through the Scottish Government.
This work is embedded within the Person-centred Care team and sits within the Nursing, Midwifery and Allied Health Professionals (NMAHP) Directorate.
What we mean by unpaid carers
We all meet and work with carers every day. By carers we mean people of any age who provide unpaid care to another person – they are the family, friends, partners and neighbours of the people you provide services to.
Even if you have limited time within your role to engage with carers, asking how they are, acknowledging their role and being able to share sources of support can be invaluable.
"When my partner was at the end of her life, I wish I had been able to recognise that I was her carer and that support might have been available to make things a bit less traumatic. I was worried sick about becoming a single dad, about how to manage the loss we were all facing and even about keeping a roof over our head. We got through it and I'd know better now, but I'd advise anyone in a difficult caring situation to get in touch with their nearest carers centre."
Carers (Scotland) Act 2016
The Carers (Scotland) Act 2016 came into force in 2018 and is a law that enhances carers' rights in Scotland. It introduced new legal duties and a range of provisions to help better identify, assess, and support carers.
The Act aims to better support carers on a more consistent basis so that they can continue to care, if they so wish, in good health and to have a life alongside caring. For young carers, the intention is similar to that for adult carers but also for young carers to have a childhood similar to their non-carer peers. It recognises the valuable role carers play in meeting the needs of individuals incapacitated due to illness, conditions, addiction or disability.
Carers (Scotland) Act 2016: statutory guidance - updated July 2021
The health and social care workforce has roles and responsibilities they need to meet to ensure they support these rights of unpaid carers and young carers.
The Carers' Charter will help carers understand their rights under the Carers (Scotland) Act 2016.
NES is a carer positive employer
NES recognises that for carers, balancing work and caring responsibilities can be challenging and stressful at times. NES is committed to supporting carers in the workplace and has a number of systems and working practices in place to help create an environment which values and supports carers in the workplace. It is also essential that we ensure that there are no barriers to carers joining the organisation.
In 2016, NES was delighted to maintain the Carer Positive award achieved in the previous year, in recognition of the support provided to carers in the workplace.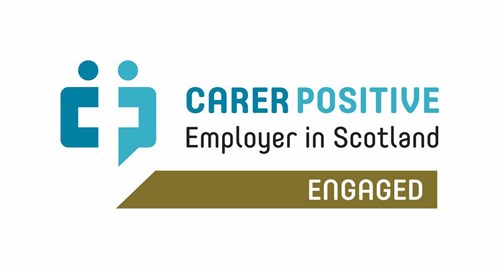 A range of support is available to employees, including flexible working, special leave for carers, job share and career breaks. There is an organisation committed to smarter working practices such as access to the suite of Office 365 Applications including Microsoft Teams which along with SharePoint can all be accessed from home which makes flexible working feasible.
In collaboration with staff across NES we have established a Parent and Carer Network. The network – which is open to everybody – provides a space for staff to share experiences and peer support. Quarterly meetings are scheduled but other options for meet ups, connecting and sharing are always being explored.
Related links
National carer organisations
Other organisations
Family Fund is the UK's largest charity providing grants for families raising disabled or seriously ill children and young people
Contact us
nes.carers@nhs.scot