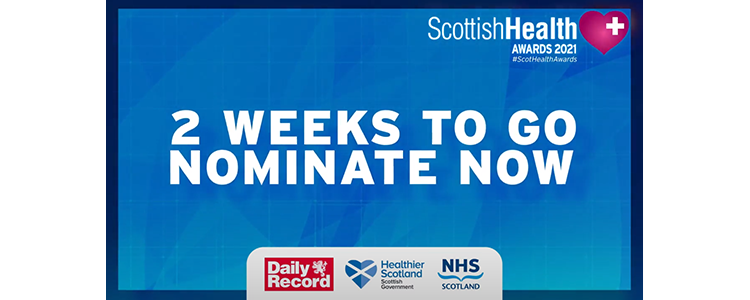 Two weeks left to nominate your leader of the year
NES is sponsoring the Leader of the Year Award at the 2021 Scottish Health Awards. The Awards, in association with the Daily Record, were launched at the NHS Scotland Event in June and they provide an important opportunity to recognise and celebrate the work of dedicated individuals and teams who deliver high quality health and care services to the people of Scotland.
This year NHS Scotland and its partners across health and social care have risen to the challenge of dealing with the Coronavirus (COVID-19) pandemic. Our staff have adapted their services to support as many people as possible - maintaining urgent care, flexing capacity and developing innovative ways of working. That is why it is so important to recognise and reward staff for what they have been doing day-in and day-out.
The Leader of the Year Award
The Leader of the Year Award is for someone working in NHS Scotland who demonstrates outstanding leadership qualities. Leaders are a key part of the NHS Scotland workforce and play their part in taking forward changes in service and the way things are done which are better for patients and their families.
Some of the work we do to promote leadership includes:
The Quality Improvement zone which provides information and resources to support people at all levels of a system to develop their knowledge to undertake and lead improvement initiatives
The Leadership and Management zone which provides information about and access to learning opportunities for leaders and managers at all levels
The closing date for nominations across all sixteen award categories is Thursday 26 August 2021.
Find out more about the categories and how to nominate at  http://www.scottishhealthawards.com or follow the conversation on social media at @ReachScotEvents
---
Contact: corpcomms@nes.scot.nhs.uk