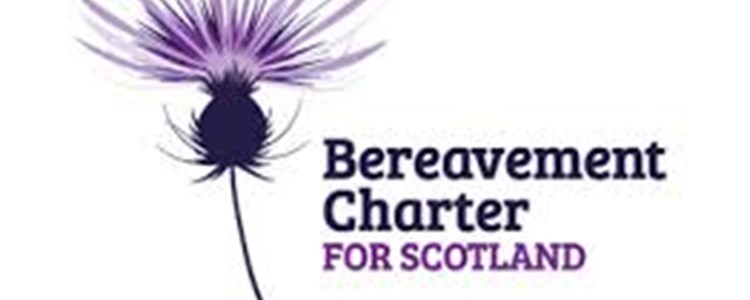 Scotland launches its first human rights-based Charter for Bereavement
Media statement: Scotland launches its first human rights-based Charter for Bereavement
Embargoed 00:01 Wednesday 15 April 2020
A Bereavement Charter for Children and Adults in Scotland
After eighteen months of development including consultation and engagement with individuals and groups across Scotland, on Wednesday (15th April) Scotland's first Bereavement Charter for Children and Adults will be launched.
The Charter together with Guidance notes has been developed by a coalition of individuals and organisations. It contains 15 statements which describe what the best bereavement care and support should look like. It has been developed to support individuals and communities who struggle with the death of someone they know or someone in their community.
Today, the need for such a Charter has become even more important due to the unique circumstances we currently find ourselves in as a result of the COVID-19 pandemic. People who are bereaved may not have been able to be with a person as they approach the end of their life and may be isolated from their usual networks of support. It has also changed the traditional ways we are able to mark our grief. Traditional bereavement rituals and funerals have changed with many people now unable to attend funerals in the way that they might have in the past. Many deaths have become sudden with little or no time to prepare.
The Charter is designed to help us understand not only the importance of bereavement support, but what that support needs to look like.
Whilst accepting that every death is unique and that the way we each come to terms with a death is individual, this Charter and Guidance attempts to describe what good bereavement support can look like and what difference it can make.
The authors of the Charter hope that it will begin to appear in locations across Scotland and will be used by diverse groups and individuals. It is therefore hoped that the Charter will help us as a nation become more effective at supporting people to grieve.
Dr Donald Macaskill, Chair of the Bereavement Charter Group commented:
"Bereavement support is an intrinsic part what it means to be a citizen in modern Scotland. Good bereavement support is not an optional extra, it is fundamental to a society basing its character on dignity and human rights. Good bereavement support renews and restores, it can give a sense of purpose and direction, for many it is what has literally saved their lives.
"I have been deeply honoured to lead the work on developing the first Charter on Bereavement for Children and Adults in Scotland. Dozens have given their time to create this unique document in the earnest hope that we will become better at talking about death and dying, and better at supporting the women and men who grieve in our communities.
"We are launching this Charter in very unusual times. The weeks and months ahead will require us all as a society to support one another to grieve for those who have died – our family, friends, neighbours and acquaintances. I hope that this Charter and its Guidance will help Scotland to be able to grieve."
Dr Janice Turner, NHS Education for Scotland commented:
''It has been an immense privilege to work with so many individuals and organisations in the development of Scotland's first Bereavement Charter for Adults and Children. We collectively hope that it will make a real and positive impact on the quality of bereavement care in Scotland, both now, and for many years to come''.
Notes to Editors:
This media release is issued by Scottish Care on behalf of the Charter coalition.
The Charter has been developed by a wide coalition of individuals and organisations including the Care Inspectorate, Childhood Bereavement Trust, CHAS, Cruse Bereavement Care Scotland, Healthcare Improvement Scotland, MND Scotland, National Bereavement Alliance, NHS Education for Scotland, NHS Fife, NHS Forth Valley, NHS Greater Glasgow and Clyde, Northumbria University, St Columba's Hospice Care, Scottish Ambulance Service, Scottish Care, Sue Ryder, University of Glasgow and the University of the West of Scotland.
There is a short film further summarising the rationale for the development of the Charter available at: Vimeo
The Charter, A FAQ Sheet and a Guidance document can all be found at Scottish Care
For interviews and further information, please contact the following providing clear details of your request:
Shanice Shek – comms@scottishcare.org
Mary-Jo O'Brien - maryjo.obrien@nhs.scot
---