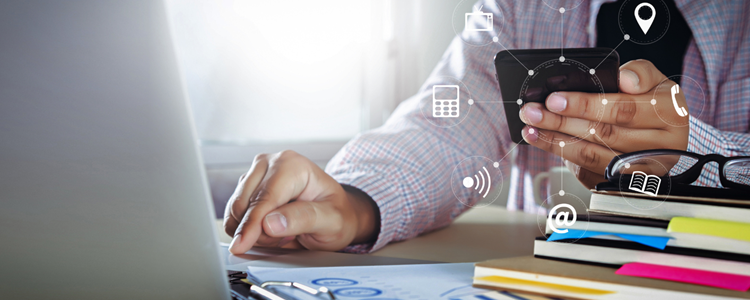 Postgraduate Programme: Leading Digital Transformation in Health and Care for Scotland (PGCert, PGDip, MSc)
We are pleased to announce that the first Scotland led master's level programme: Leading Digital Transformation in Health and Care for Scotland is now open to applicants with the course commencing March 2023.
Delivered by the University of Edinburgh, and led by NES, this postgraduate programme will enhance the ability of current and future leaders to drive, deliver and embed digital transformation across health and care services in Scotland. 
About the programme
The programme aims to equip students with the skills and knowledge required to become innovative transformation leaders, while providing the opportunity to translate these into practice for the benefit of the organisation and/or wider system.  There are three flexible qualification routes to learning:
one year - Postgraduate Certificate (PGCert)
two years - Postgraduate Diploma (PGDip)
three years - Full masters (MSc)
Scottish Government funding has been provided for year one (PGCert) and year two (PGDip) for up to 60 participants. For those who intend to complete year three (MSc) funding must be provided by the candidate's own organisation or the candidate (self-fund).
The application process will close at midnight on 15 January 2023, with successful candidates being informed at the beginning of February 2023.  
Content of the programme
While the content will align and relate to the Scottish landscape; it will also include insight into digital innovation and transformation happening globally across health and care. This senior level qualification is targeted at those working in any health or care setting (including social work, housing, charities and third sector) who are:
Currently operating within a role where they aspire to drive and implement digital transformational change within their organisation or system
Can meet the academic requirements for the programme or have 3-5 years relevant work experience
Have the support of the Chief Executive or an Executive Director in their organisation
Supporting webinars
To support candidates who are interested in applying we are hosting live webinars, these are open now for registration and will take place on the following dates:
More information
Find out more on the Turas Learn page or contact the Digitally Enabled Workforce team in NES at the email address below 
---
Contact: nes.dew@nhs.scot