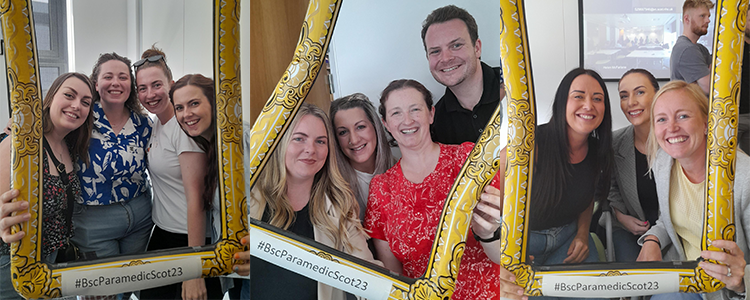 Paramedics - a degree-based profession
NES hosted a celebration for the first nationally commissioned cohort of BSc Paramedic Students in Scotland achieving their third and final year of study.
The event took place in Aberdeen, Edinburgh and Glasgow on 21 June in recognition of the students and the wide range of people and organisations that have made it possible.
Students shared their standout moments over the last three years and heard tributes from the Chair and Chief Executive of the Scottish Ambulance Service and of NES as well as hearing stories from the range of Practice Educators and Practice Education Leads about their experiences. The Chief Allied Health Officer from the Scottish Government also expressed her thanks and congratulations.
Helen McFarlane, Allied Health Professions Programme Director at NES, said:
"Gone are the days when a paramedic's job is only to get the patient as fast as possible to a hospital. Today's paramedic undertakes assessment and diagnostic tests and makes decisions about whether hospital transfer is required or if the paramedic can treat or refer on to other services to provide the right interventions.
"All this decision making in the added situation of emergency or other stressful settings has been part of the rationale that paramedicine has become a profession that requires a degree. The degree threshold was set by the regulatory body Health and Care Professions Council (HCPC)."
Karen Reid, NES CEO, added:
"Congratulations to all of you. Today is a historic moment – with yours being the first nationally commissioned paramedic degree.
"NES has great resources available to you. For example, the AHP portfolio on TURAS is a platform to help you reflect and record your learning. We hope you will engage with NES resources as you progress your career, delivering safe and effective paramedic care to the people of Scotland."
NES awarded contracts to five higher education institutions (HEIs) in 2019, with each university developing course curriculum, gaining regulatory approval from HCPC. The first national commissioning of paramedic degree students required 284 students to be recruited across Scotland and in subsequent years this has risen to 335.
HEI

Area

Robert Gordon University

Grampian

Highlands/Orkney/Western Isles/Shetland

Queen Margaret University

Lothian and Borders

University of Stirling

Fife

Forth Valley

Tayside

University of West of Scotland

Dumfries and Galloway

Ayrshire

Lanarkshire

Glasgow Caledonian University

Glasgow
Each course includes significant levels of practice education with 50 placement weeks – 30 weeks with Scottish Ambulance Service and 20 weeks within other settings such as health boards. This enables paramedic students to develop skills and knowledge across a wide range of settings including:
mental health services
maternity services
children and young people services
older people's services
It also enhances students' knowledge of wider health and care teams such as placements with nurses in ITU and A&E settings; physiotherapists and occupational therapists; pharmacists; clinicians; radiographers; speech and language therapists. Third sector organisations including homeless services, disabled peoples' organisations and care homes in the independent sector all provide rich learning experiences.
The need to persuade other professions working in such settings to volunteer as practice educators started in earnest before the students were recruited and continues today. If you are reading this and would like to offer to support a student paramedic on placement, please email us at nes.paramedicprereg@nhs.scot and we will put you in touch with your local Practice Education Lead.
---