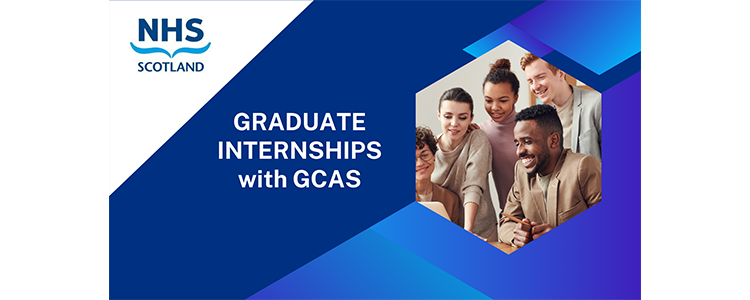 NHS Scotland and Graduate Career Advantage Scotland Internship
Graduate Career Advantage Scotland Internship (GCAS) is an initiative which supports recent, eligible graduates living in Scotland to find rewarding employment. They offer careers support and access to high-quality paid internships.
Earlier this year NES stepped up to lead rapid recruitment of a cohort of interns as part of the GCAS initiative.
There are currently 27 interns, across 17 health boards, on six-month internships - in the following three roles:
project support officers
information analysts
communications officers
All are employed and supported by NES and hosted in teams who were keen to support the initiative.
As part of the Scottish Government's Young Person's Guarantee, GCAS aims to bridge the gap between employers and talented graduates; helping to ease the transition into valuable work experience.
Graduates are gaining valuable work experience whilst growing their understanding of working within the NHS. In addition, they are developing networks, professional skills, building confidence and gaining support with applications and interviews.
Jo Haddrick, Specialist Lead and GCAS Project Manager, said:
"Establishing and delivering the GCAS Project has been both a challenge and a pleasure. Interns are flourishing and I can see their confidence is growing between our regular intern meet ups.
"I am looking forward to working with HR colleagues to increase our use of student and graduate placements and internships in 2023 and will also be supporting health boards to once again engage with GCAS."
Em Lepick, Project Support Officer added:
"GCAS has been fantastic for me. It has opened up many opportunities that I didn't think would be possible at this early stage in my career and as someone who could face potential barriers to employment.
"GCAS is more than an internship… and feels like a jump start to my career."
Follow NHS Careers on social media during Scottish Careers Week (7-11 November) to hear more from our interns about their host services and their career journeys.
---