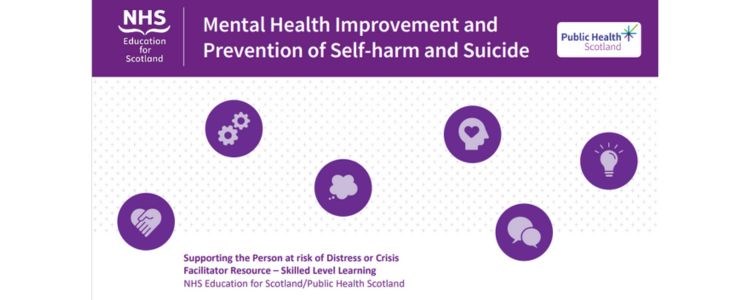 New Skilled Level Facilitator Resources
Public Health Scotland (PHS) and NES work together to support the education and development of the workforce across health, care and the wider public sector in relation to mental health improvement and the prevention of self-harm and suicide.  
This partnership has developed four new skilled level facilitation packages which are now available.
These skilled level facilitation resources are based on the content covered in the existing skilled level learning bytes. They provide facilitators with materials to deliver educational training sessions to staff who, in the context of their role, are likely to have direct or substantial contact with people who may be at risk of mental ill health, distress, crisis or suicide and where they may play a role in supporting people's health and wellbeing. 
Audrey Taylor Head of programme, NES NMAHP said:
"We hope these new resources will complement the growing suite for those working across health and social care settings, and beyond, to enable individuals, their teams ,managers and leads  identify and understand the values, knowledge and skills in support of mental health improvement and the prevention of self-harm or suicide.
"The facilitator resources aim to support staff across the public sector and beyond to develop the knowledge and skills needed to promote good mental health and wellbeing across the whole population and to prevent mental ill health, self-harm or suicide."
The four new skilled level facilitation packages cover:
Distress and crisis
Self-harm prevention
Suicide prevention (Adult)
Suicide prevention (Children & Young People)
To access each of the packages please sign into your free TURAS Account and then access our main Facilitator area and the Skilled Level Facilitator area.
Please note there is an application form required for each of these skilled facilitation packages (including the PowerPoint slides and facilitator plans).
If you do not have a TURAS Account, please
Turas Learn - Account creation and sign in 
You will receive an e-mail notification asking you to follow a link to set your password so that your account can be activated
Log in to your Turas account and open Turas Learn application
Please do not hesitate to contact the team mentalhealth@nes.scot.nhs.uk if you have any questions or want more information.
---
Contact: mentalhealth@nes.scot.nhs.uk