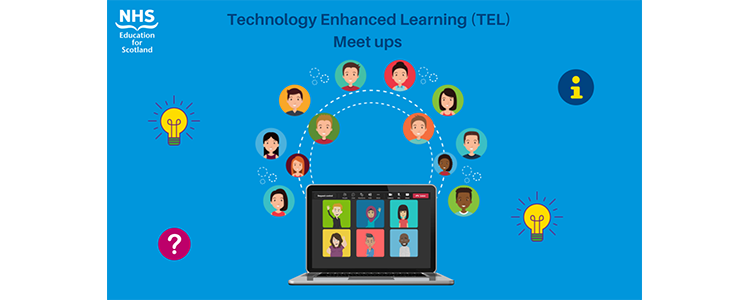 New sessions aimed at sharing knowledge and experience in Technology Enhanced Learning
Due to the popularity of the Technology Enhanced Learning (TEL) Knowledge Sharing Network which has been established in NES, we are keen to find out if a similar approach could be helpful in supporting health and care colleagues across Scotland.

We've scheduled three 60-minute 'taster' TEL Meet Up sessions which aim to provide practical guidance on effective learning practice.
The sessions will be hosted on Microsoft Teams and are open to all staff in health and care - attendees are welcome to join any or all of the sessions.

We plan to evaluate each session in order to provide the opportunity for participants to share feedback on their experience, and to help establish if this would be a useful approach to build on moving forward.
To register for each session, please click on each of the session titles above and complete the short registration form.  You will then be sent the link for that meeting.

The TEL Knowledge Sharing Network within NES was established as a community on Microsoft Teams - together with regular facilitated online Meet Ups - as a supportive resource for staff at the onset of the pandemic in March 2020.

It has proved to be very effective as an active community, with engagement from colleagues across all directorates in NES and now with over 450 members.

For any questions, please contact nes.telsupport@nhs.scot.
---