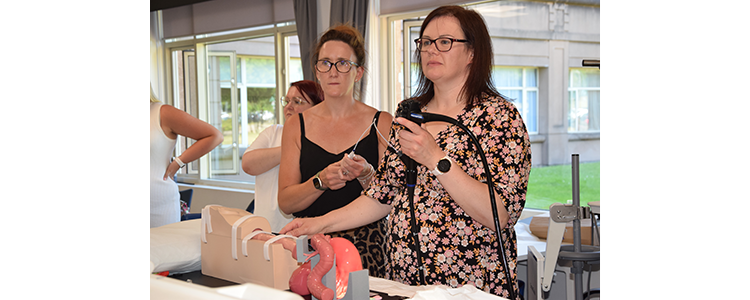 New NHS Scotland national training centre for endoscopy
The National Endoscopy Training Programme (NETP), part of NHS Scotland Academy, an innovative collaboration between NHS Education for Scotland (NES) and NHS Golden Jubilee, has become only the third training centre in Scotland to be approved by the Royal College of Physicians' Joint Advisory Group (JAG) on Gastrointestinal (GI) Endoscopy.
NETP received JAG accredited status for meeting the governance requirements in the plans to deliver standardised, high-quality training to the endoscopy workforce.
Drawing on the strengths of both parent organisations, the Academy uses the state-of-the-art clinical and simulation facilities at NHS Golden Jubilee and the educational expertise and technology-enabled learning offered by NES.
The new training centre will be based in the endoscopy suite, part of NHS Golden Jubilee's new Surgical Centre due to open later in 2023, and will feature 2 procedure rooms and an additional training classroom.
Key to delivering vital training, the suite will become the main hub for the NHS Scotland Academy's 'National Endoscopy Training Programme' (NETP), which is currently working to upskill the endoscopy workforce, aiming to increase the number of accredited endoscopists in Scotland.
Karen Boylan, National Endoscopy Training Programme Lead at the NHS Scotland Academy, said:
"The approval of this training centre allows us to progress plans to make NHS Golden Jubilee the hub for the NHS Scotland Academy National Endoscopy Training Programme.
"Once the new endoscopy suite is open, we will deliver JAG approved training courses including basic skills in both upper and lower endoscopy. This course is one of the mandatory requirements for all endoscopists to become accredited.
"This NETP Training Centre will increase the number of places available for Basic Skills, as well as provide a range of other courses to improve the skills of our endoscopy workforce and improve the standard of care delivered to patients within NHS Scotland."
Kevin Kelman, Director of NHS Scotland Academy, Learning & Innovation, NES said:
"This approval for the centre follows on from the earlier news that NHS Golden Jubilee endoscopy services were the first NHS services in Scotland to receive JAG accreditation.
"This recent development, combined with the world-renowned educational expertise of NHS Education for Scotland, will support our ambition to establish a hub and spoke model to deliver the National Endoscopy Training Programme, with NHS Golden Jubilee as the endoscopy training hub, networked to other endoscopy training centres in other parts of Scotland.
"The training delivered by the NETP serves NHS Boards across Scotland, with several programmes to develop the endoscopy workforce in a coordinated 'Once for Scotland' approach.
"The commitment and dedication of so many colleagues across our teams have secured our success in achieving this most recent milestone."
The Golden Jubilee University National Hospital is the only approved training centre in Scotland with a JAG accredited endoscopy suite.
---