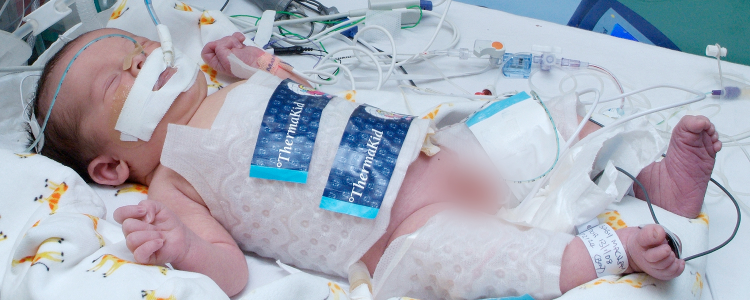 New neonatal cooling education resources for better treatment of babies suffering a lack of oxygen during birth
NES and partners have developed new educational resources to support The Scottish Neuroprotection Care Pathway. The work ensures the prompt and accurate assessment of asphyxiated babies for therapeutic hypothermia.
Hypoxic-ischaemic encephalopathy (HIE) is defined when a lack of oxygen and blood flow to the brain results in a change in neurological behaviour and this may result in permanent brain injury. Therapeutic hypothermia is a protective treatment for some babies, when started within the six hours after birth.
Clinical experts from The Scottish Cooling Group, The Scottish Perinatal Clinical Network and the PEEPS parents' charity collaborated with NES to produce animated videos to complement these new educational resources.

Three videos have been developed to support nursing and medical teams in neurological examination, and in parent communication both at diagnosis and for prognosis.
Video 1 demonstrates neurological examination and assists clinicians to assess mild, moderate and severe HIE so that only babies who will benefit are selected for cooling.
Video 2 support clinicians in explaining the terminology for parents and the important role parents have in being with their baby during cooling. Parent communication is essential in explaining the condition of a baby and the need for treatment which sometimes necessitates transfer.
Video 3 supports clinicians in communicating prognosis to parents, a conversation that can be complex, challenging and sensitive especially in contexts where HIE is in infrequent event.
Within NES, RRHEAL, medicine, NMAHP, and digital directorates worked together in a cross directorate 'once for NES/Scotland' way.
These HIE video resources are the first of their kind in the UK. Their focused content and short duration provide maximum educational impact while limiting time away from clinical care.

The impact of the resources on babies and their families and an evaluation of their use will be produced in real time, as they are rolled out.
Thomas McEwan, Principal Educator: Women, Children, Young People and Families, NES, said:

"These educational resources provide evidence-based, contemporary and accessible guidance to the multi-professional team caring for infants with Hypoxic-Ischaemic Encephalopathy (HIE). They will help ensure that clinical staff within delivery units are able to make clinical decisions in accordance with the Scottish Neuroprotection Care Pathway (NCP). This will support the aim for these infants to be identified for cooling treatment appropriately, within the specified time-period and for parents and families to experience excellent communication from members of the team caring for their baby."

Julie-Clare Becher, Consultant Neonatologist and Honorary Senior Lecturer in Neonatology, NHS Lothian, said:

"These resources will be pivotal in supporting clinicians in acute clinical settings to make the right decision at the right time to benefit babies. Parents need accurate and compassionate information about their baby throughout the cooling process, and these videos, co-designed with the charity PEEPS, walk clinicians through an approach to these sensitive discussions."

Pam Nicoll, Programme Director RRHEAL, NES, added:

"This project to develop these educational resources has developed at pace to deliver a high-quality product to support excellent care within NHS Scotland and beyond. And it has drawn on the strengths and capabilities within our in RRHEAL, medical, NMAHP and digital teams."

View the animated education resources on Turas Learn.
---
Contact: corpcomms@nes.scot.nhs.uk