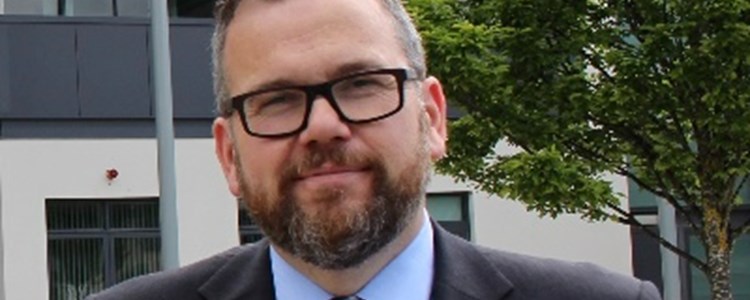 New Director of NHS Scotland Academy, Learning & Innovation
Kevin Kelman has been appointed as NES's first Director of NHS Scotland Academy, Learning & Innovation. This role will support NES to work with learners, educators, partners and stakeholders to improve education and learning, using technology and innovation to create a better future for health and social care in Scotland. 
The new post builds on the successes of the NHS Scotland Academy. The Academy is a partnership with NHS Golden Jubilee that supports the transformation and sustainability of the health and social care workforce through accelerated, needs driven, learning and development.
Previously employed as the NHS Scotland Academy Director, Kevin now takes on a broader role, which includes leading the development and implementation areas of NES's learning strategy, as well as enhancing NES's role within Scotland's health and social care innovation ecosystem.
The scope of the role will include
continuing his work to develop the NHS Scotland Academy
working towards NES becoming a credit-rating body
developing a digital prospectus of education and training for Scotland's health and care workforce 
working with NES colleagues to lead and drive the development of new career and qualification pathways
collaborating with partners to support the workforce to develop emerging new skills needed to deliver changing models of health and social care service delivery
supporting NES to be a full partner in the development of digital innovations, focussing on assisting staff to develop, implement and deliver technical innovations which support the health and social care system
Kevin Kelman said:
"NES is at the forefront of ensuring learning is future-focused. It's not only about how we work across the health and social care system, but also within the education and skills system as well.
"The NHS Scotland Academy partnership with the NHS Golden Jubilee has already demonstrated that we can deliver accelerated learning across different areas, delivering results that equip staff with a range of skills for their health and social care roles.
"We want to work with partners across Scotland to develop cohesive learning provision for the health and social care workforce, as well as sharing our learning resources with other parts of Scotland's public services."
Chief Executive Professor Karen Reid said:
"This role reflects the changing needs of NES as a national learning organisation, and the need to collaborate more closely with other key partners.
"We are going to see a more diverse workforce in the future, with innovation being key to that. New ways to learn and work, using AI for example, and digital health & social care are all part of the same journey.
"We want to be in the best position to support and encourage those changes, and I'm thrilled to have Kevin on board to lead our work in this area."
---
Contact: corpcomms@nes.scot.nhs.uk