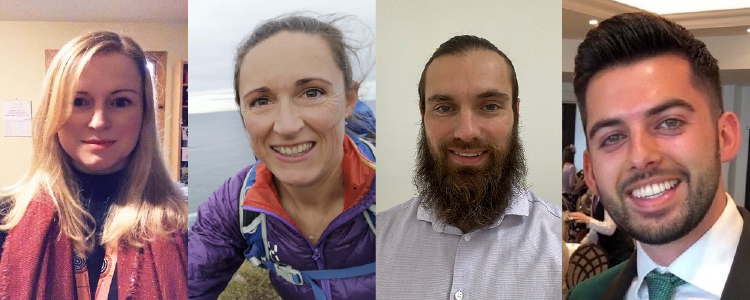 Meet our new principal leads for pharmacy simulation
NES Pharmacy has recently appointed a team to promote pharmacy simulation across NHS Scotland.
The team marks a recognition of the huge potential for simulation-based education in pharmacy and will support the improvement, accessibility and quality of this training intervention for all stages and sectors of pharmacy practice.
Growing our national pharmacy simulation faculty will be crucial in reaching this goal.
The Pharmacy SimStart course, at the Scottish Centre for Simulation and Clinical Human Factors, is designed for those who have little or no experience in simulation but are interested in becoming simulation facilitators. The following dates in 2022 will be open soon:
Friday 28 January
Thursday 10 February
Monday 14 March
Watch this space for more information.
Meet the leads
We caught up with the pharmacy simulation team members below about their aspirations for their new role.
Scott McColgan-Smith (National Principal Lead)
"I am thrilled to be appointed as the National Principal Lead for Pharmacy Simulation. In my other role, I am a Senior Pharmacist in Prescribing Development & Education within NHS Ayrshire & Arran based in secondary care. 
I have knowledge and experience in designing and delivering simulation and I plan use these skills to help advance simulation training opportunities for those working and training all over Scotland. My team and I look forward to collaborating with others across the country to bring this vision to life.
Quality assurance is really important to me and I believe a joined up approach is going to be essential in achieving this.  Simulation provides so many opportunities for pharmacy trainees and staff to develop themselves in a safe space and I look forward to supporting the implementation of this technique in my new role."
Pete Buckner (Principal Lead for West Region)
"I am delighted to be in post as Principal Lead Pharmacist for Simulation for the West of Scotland. I am currently practicing in primary care in NHS Lanarkshire with over 17 years' experience in a range of sectors and a variety of clinical, educational and leadership roles across NHS Forth Valley, Greater Glasgow and Clyde, Lanarkshire, Tayside and Fife.
I look forward to promoting realistic, high quality clinical simulation that will prepare pharmacy professionals for their practice."
Seonaid McIntyre (Principal Lead for East Region)
"With over 20 years' experience, I started in community pharmacy where I was able to obtain my independent prescribing qualification as well as undertake an acute clinical examination course (ACE).
In 2012 I moved to NHS Lothian Primary Care where I have worked in a range of roles and also had various secondments to NES including supporting the development of the foundation and advanced pharmacist frameworks pathways. I now am now the lead pharmacist for Education research and development for the Primary Care pharmacy team in NHS Lothian.
I am very excited to be taking on this new role as Regional simulation lead for the East of Scotland and especially to see where it can be used across all sectors, roles and stages of pharmacy training, growing confidence and skill in this fast paced ever evolving profession."
Laura McAuley (Principal Lead for North Region)
"I currently have a clinical and education and training role in NHS Highlands - in primary care and previously in hospital.
I am excited to be in post to deliver and develop simulation-based training, with its huge potential to enhance pharmacy training."
---