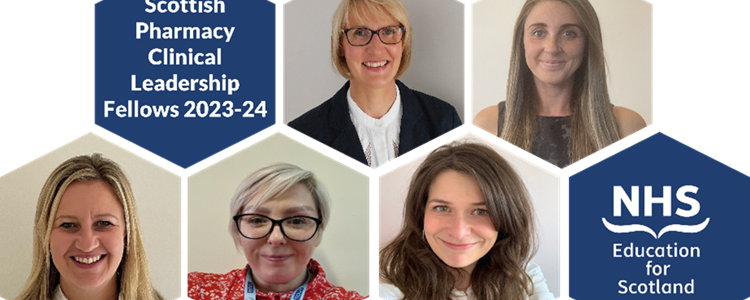 Meet our 2023 Scottish Pharmacy Clinical Leadership Fellows
Meet our 2023 Scottish Pharmacy Clinical Leadership Fellows
Five new Pharmacy Fellows join the 2023 Scottish Pharmacy Clinical Leadership Fellowship (SPCLF) programme announced today by NHS Education for Scotland (NES).

The programme aims to provide NHS Scotland with the next group of senior pharmacists and pharmacy technicians who are committed to pharmacy development and have enhanced capability to offer strategic leadership in their workplace and at national and international level.

This is the sixth cohort of fellows. This year, the SPCLFs will be supported by host organisations, including NHS Education for Scotland (NES), NHS National Services Scotland (NSS), the Royal Pharmaceutical Society (RPS), and the West of Scotland Directors of Pharmacy. The fellows will work on projects related to, pharmacist independent prescribing, person engagement (related to the Digital Prescribing and Dispensing Pathways (DPDP) programme), pharmacogenomics, and advanced practice for pharmacists and pharmacy technicians.
The five fellows ) are:
Gillian Barmack (NHS Greater Glasgow and Clyde)
Kirsty O'Hara (NHS Ayrshire and Arran)
 Sarah Coulter (NHS Greater Glasgow and Clyde)
Jill Winchester (NHS Highland)
Cara MacKenzie (NHS Fife)
Leon Zlotos, Associate Postgraduate Pharmacy Dean, NES, said:
"I'm delighted to launch the sixth year of our Scottish Pharmacy Clinical Leadership Fellowship and welcome Cara, Gillian, Jill, Kirsty, and Sarah. They will be working with dental and medical fellows, which will allow them to connect interprofessionally, across Scotland, to build networks that will last their careers. They will collectively undertake the NES leadership and management programme, which will help them develop as leaders and apply these skills in practice through their projects.
As the health and care system evolves, we see greater importance on service redesign and workforce transformation, including a greater need to utilise advancing technologies to support the workforce pressures and provide the best care to our population.  Effective clinical leaders are essential to deliver the changes required, and this programme aims to develop our clinical leaders for the future.
The programme combines leadership development, which is personalised to the individual fellows, with completion of a project which allows our fellow to apply, test and develop their leadership skills in practice. Our fellows will strengthen their skills during their year while delivering on important work that is required for the future of pharmacy in Scotland."
The Scottish Pharmacy Clinical Leadership Fellowship scheme (SPCLF) was launched in 2018. Since then, it has evolved and has successfully supported the development of future pharmacy leaders and taken forward strategic objectives to improve the pharmaceutical care of patients in Scotland.
---