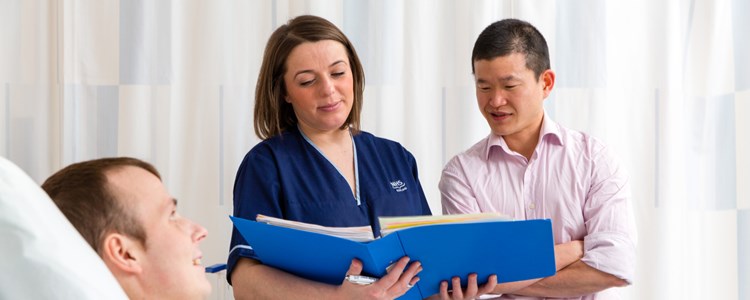 Medical training partnership announced in Glasgow
A number of organisations involved in the training of healthcare professionals have joined forces in a partnership to enhance access to professional skills and education facilities across Glasgow.  The Healthcare Skills and Simulation Collaborative involves NHS Greater Glasgow and Clyde, the Royal College of Physicians and Surgeons of Glasgow, NHS Education Scotland (NES), NHS Golden Jubilee, and NHS Lanarkshire.
The partnership will open up opportunities for healthcare professionals including doctors in training, and those in more senior roles, to access world class clinical training in dedicated spaces that have been designed to mimic a real hospital environment.  The simulation facilities have been kitted out with hospital beds and equipment, with anatomical models specially designed for teaching healthcare professionals.
Recent medical graduates about to start their hospital careers as Foundation Year doctors will be among the first to use some of the new facilities as they begin their induction programme at the newly kitted out facility at the Royal College of Physicians and Surgeons of Glasgow this week.
Speaking about the launch, Professor Jackie Taylor who is President of the Royal College of Physicians and Surgeons of Glasgow, said:
"I am absolutely delighted that we will be welcoming new doctors in training to this world class facility over the next two weeks. They will benefit significantly from access to this simulation skills training which will prepare them for working with real patients and the environment of a real hospital.  The new facility is a wonderful addition to our surgical skills training centres located at our premises on St Vincent Street in Glasgow, and at the Clinical Anatomy Skills Centre at the University of Glasgow. I am proud that we are leading the way to drive forward access to high value skills training for healthcare professionals."
NES Medical Director Professor Stewart Irvine said:
"We are delighted to support this initiative. The pandemic saw our clinical skills team work with partners to create a dedicated education and simulation hub at the Louisa Jordan Hospital, delivering essential training to hundreds of staff. We're pleased to be able to build on that success with the new facility at the Royal College of Physicians and Surgeons of Glasgow, which is part of a wider network across Scotland."
Dr Jennifer Armstrong, Medical Director at NHS Greater Glasgow and Clyde, said:
"We invest heavily in providing world-class training and development for new doctors as they embark on a career committed to providing the very best in patient care. We're delighted to be supporting this new facility, which will complement the skills and experience they will achieve through working at sites across Greater Glasgow and Clyde."
Dr Lindsay Donaldson, Director of Medical Education at NHS Greater Glasgow and Clyde, said:
"At NHSGGC we are currently welcoming 252 new doctors with our  induction programme which includes simulation training and we look forward to working with them on our wards in the weeks ahead. The last 16 months have seen many changes in how we approach training and innovations such as this are very much at the forefront of providing opportunities which will improve skills and outcomes for patients."
Dr Mark MacGregor, Medical Director, NHS Golden Jubilee said:
"NHS Golden Jubilee are thrilled to be collaborating with our colleagues to form the HSSC. The Golden Jubilee Conference Hotel, as an integral part of NHS Golden Jubilee, offers world class training facilities and support to ensure an immersive and educational experience. Through innovative and simulation training, participants will gain the key skill and confidence needed to provide their future patients with the highest level of care.
"NHS Golden Jubilee has a proven track record of hosting successful clinical and surgical training, with the ability to offer live two-way audio visual links to areas such as surgical theatres, diagnostic imaging and cardiac catheterisation laboratories. We are looking forward to welcoming trainee healthcare professionals to our facilities and to a fruitful collaboration with our colleagues across the West of Scotland."
---