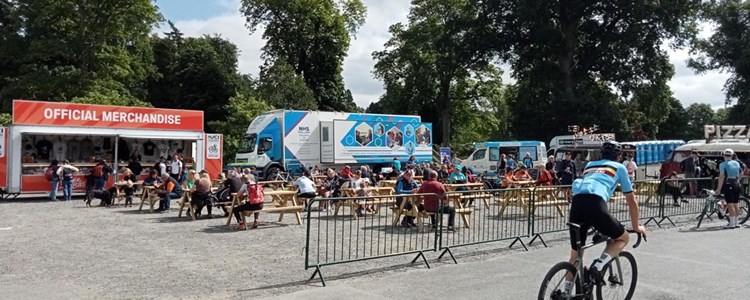 Let's talk about concussion
Concussion in sport doesn't just happen to performance athletes in high octane sports like cycling, it impacts on participants in grassroots sport too. And while most people who participate in sports like cycling do so safely, we want to make sure everyone involved in sport is aware of how to recognise a concussion and what to do if they suspect someone is concussed.
As part of the ongoing work on concussion across the sporting sector,  the NES Mobile Skills Unit (MSU) team and Sportscotland have been at the 2023 UCI Cycling World Championships over the weekend, in Perth and Dundee. Using the MSU, the team have been on hand to raise awareness of the issue of concussion and provide information on the resources available, including the Scottish Sports Concussion guidance and the recently released UK-wide concussion guidelines for grassroots sport. Visitors have also been able to take an online concussion training module developed by British Cycling.
Chief Executive Karen Reid said:
"C

oncussion in sport is a serious issue, and people need to know how to identify it and what to do if it occurs. That's why we're delighted that our Mobile Skills Unit (MSU) has been present at the Cycling World Championships, as part of our partnership with SportScotland.
"At NES we provide education and training that supports better health and social care for the people of Scotland. Our MSU is a state-of-the-art simulation facility which tours Scotland giving health and care professionals and other people a chance to learn or improve their life-saving skills.

"This week, we've been running sessions for members of the public so that they can understand the latest guidance around concussion. They've been able to use our simulator in a range of scenarios, and learn what they need to do to if they're ever called upon."
---
Contact: corpcomms@nes.scot.nhs.uk