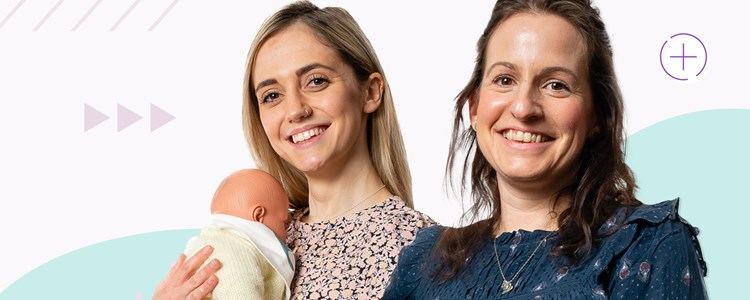 Giving families the best start with the Family Nurse Partnership
Becoming a parent is one of the greatest challenges in life. And in a pandemic, it's even more important that children get the best start. That made 2021 a critical year in the work of our Family Nurse Partnership (FNP) education team
Since 2015, our team has developed, facilitated and evaluated the FNP education programme in Scotland. To date they have provided education to 233 Family Nurses and 48 Supervisors - this includes delivering education for colleagues in Norway and Northern Ireland.
The three key goals of FNP are to improve:
pregnancy and birth outcomes through improved prenatal health behaviours
child health and development through positive, responsive caregiving
the economic self-sufficiency of the family, through developing a vision and plans for the future
The FNP programme is delivered, by highly trained and committed family nurses who work with young first-time parents (clients) to achieve long term, sustainable positive health outcomes for the client and their child.
Adapting to the pandemic
As Scotland entered a second lockdown from January 2021, the FNP education team had to adapt and adjust the education of family nurses and supervisors while also ensuring the safety of families, the FNP workforce and the educators.
By redesigning, developing and evaluating the education provision the team were able to offer a hybrid of face-to-face education with appropriate covid safety measures in place and online education. This ensured that no core education was cancelled, and education has continued throughout the pandemic. Throughout 2021 the FNP education team worked with five cohorts of nurses and supervisors and provided education to 75 Family Nurses and 11 Supervisors.
From the very beginning of the pandemic, it was recognised that family nurses provide an essential service alongside other colleagues offering universal and targeted care and protection for clients and their families. Family nurses continued to offer home visits to clients managed in line with the national guidance carrying out essential visits and wearing personal protective equipment as recommended and using a range of communication options to support service delivery mode. Where pressures were higher, FNP still continued as an essential service, engaging with families and prioritising in-person contact with families with additional needs.
This was a significant undertaking as Family Nurses have an average caseload of 25 clients each and over the two and a half years will visit each client and their family up to 64 times. An initial evaluation of the FNP service provided during the pandemic recognised that FNP was valued by clients during this time of uncertainty and crisis and was evidenced by sustained levels of client recruitment, retention and engagement throughout (Scottish Government 2021).
What nurses think
We were fascinated to hear from our nurses about what difference the education makes to their practice as a Family Nurse and how this prepared them for their role. Here is what they told us:
Do you feel the education programme supports your preparation for your role as a Family Nurse? Can you offer any examples of this?
(Roni) "I would say that it is really sets you up for the role. It's a challenging role, but I feel like the education that I've received kind of gives me a toolkit really, so I've got all sorts of ideas to bring out the toolkit when I'm doing my day to day job…
"... So, for example, skills practice, actually having a go at using the materials, in a safe space has been really valuable. And that's definitely given me more confidence when I go out and do visits with clients."
Trust and building relationships is the foundation of all human relationships and is key within both the education and health care setting. This is particularly relevant for FNP where we are working with young first-time parents, building relationships with them and inviting them to trust.
Creating a trustworthy and safe space for learning is fundamental to the education team. The FNP education team strive to create both a physically and psychologically safe learning environment where it is safe to take risks to extend and develop thinking and learning, to 'have a go' and make mistakes or ask for help or clarification when needed. They aim to have an educational environment where this can be done without fear of judgement or embarrassment and is trauma informed.
If you were to describe the FNP education programme to a colleague out-with FNP, what would you say? 
(Dani) "I would say it's your safe space. It's your safe space to come together with a supportive group of people who are like minded and for you to practice skills and bounce ideas off each other. But the main thing is it's your safe space for learning."
(Roni) "Yes… I was really conscious that the education programme has really considered the idea of trauma informed classroom and opportunities for us to actually use the material that we will use in our day to day work."
FNP takes an holistic approach differing from other services that may focus on single areas for behaviour change such as reducing smoking, healthy nutrition, sexual health or breastfeeding. Family nurses work to support comprehensive behaviour change through the development of a therapeutic relationship and recognising the client as the expert in their own life as a central concept for the programme, exploring what impact change could have on her child and ensuring that the voice of the child is heard.
(Roni) "I think the education programme made the programme outcomes really clear to me throughout the 18 months that I was doing my training and that made it much easier for me to be in the home of the client and see how that directly links to the client and in turn their children. The voice of the child has been really clear all throughout the education programme."
Transforming lives
The FNP programme underpins real changes in the lives of our families. These include, clients leading breast-feeding support groups, clients gaining places at university, clients establishing their own small businesses and clients advocating for change for other young parents.
This year we also asked clients what we should teach new family nurses. They said that the relationship was the key ingredient: what they valued about their own family nurse was that they were kind, that they did what they said they would do, that they did not feel judged by their nurse and that they recognised that their nurse was invested in them.
This long-term programme plays a significant role in meeting the needs of Scotland's population and reducing wider health inequalities. We are privileged to play even a small part in this and look forward to another year of changing lives through FNP.
How could we help you? We'd love to hear from you. Please get in touch.
This case study is of part of our Year in Review 2021.
---