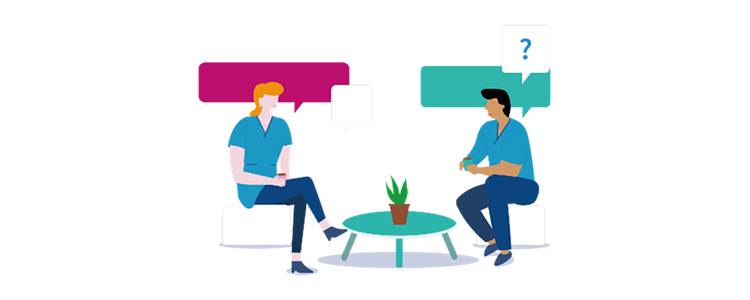 Driving knowledge and skills development for effective supervision
The second national survey for Allied Health Profession (AHP) practitioners and AHP Health Care Support Workers (HCSWs) is currently underway. It includes staff working in NHS, local authorities, Health and Social Care Partnerships and the third sector in Scotland.
The results will help the AHP National Working Group support the workforce to develop and maintain the skills and knowledge required to participate in effective supervision.
Once the second national survey closes on 12th September, the group will analyse the data, develop a learning programme, launch updated supervision units and undertake consultations on the national recording guidance and Scotland's Position Statement on Supervision for AHPs.
Scotland's Position Statement on Supervision for Allied Health Professions
Scotland's Position Statement on Supervision for Allied Health Professions (2018) defined the key guiding principles for quality supervision practice. It highlighted that ALL AHPs should be participating in effective supervision regardless of their role, banding, experience, or work setting.
A national scoping exercise undertaken in 2018 underlined some issues:
supervision practice was very disparate
supervision was not uniformly available
staff were often unclear about what should be covered in supervision
lack of clarity about the type, mode, frequency and how to record supervision
staff did not feel confident in their role as a supervisor or supervisee
staff were unsure where to access education to support their practice.
In response the NES AHP Practice Education team set up a national working group to support implementation of the Position Statement principles. It also expanded its capacity to design, deliver and evaluate evidence-based education to enable AHPs to participate in quality and meaningful supervision practice.
The team worked with AHP Practice Education Leads (PELs) in boards to develop the infrastructure to reach as many AHPs as possible and ensure effective implementation. This included:
holding introductory webinars for AHP staff in Scotland – reaching 2236 participants plus 1965 views of the recordings and 1044 downloads of the resource packs
developing information and resources on Turas with 7386 visits so far.
delivering workshop sessions for PELs and board 'champions' to ensure familiarity with educational materials and sustainability was integral to the implementation process.
delivering of 86 co-facilitated skills sessions entitled "Key skills of a supervisor and how to apply in practice' across all boards in Scotland to 956 participants.
undertaking national evaluation of the sessions which demonstrated that:
99% would recommend this training to others
98% reported the education met the intended learning outcomes
The confidence to undertake the role of a supervisor rose from 24.3 % pre-course to 75.8% post-course.
Further information
Access a summary of the work to date or view in detail on Turas the education resources available to support supervision practice.
---