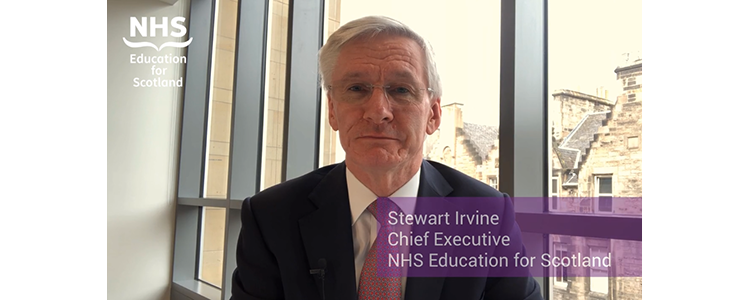 Coronavirus: Recovery and Renewal
In this month's 'NESCurrent' newsletter, NES Chief Executive Stewart Irvine highlights the work we have done with our partners in the initial phases of the pandemic, and looks ahead to the future of education and training. You can read more detailed articles from each of our Directorates.

Stewart writes:
"Over the last six months, Coronavirus has dominated our thoughts, our conversations and our activities. The impact on the health and care sector in Scotland has been profound and tragic.
"But at the same time, essential work has to go on. As the Board responsible for educating and training NHS Scotland's workforce, we've had to balance our support for the immediate response with looking over the horizon to make sure the NHS has the right people with the right skills for the future. It takes years to train many of our health professionals.
"In this edition of our newsletter, we've collected some of the stories from across our organisation, talking about how we've worked - together with you- to respond; and where we go from here.
"Of course, it's a story that's only half-written, but we thought it would be helpful to give you an insight into our current thinking about the challenges that lie ahead.
Our Response
"As an organisation, we have had to be fleet of foot in developing new ways of working, not just for our own staff, but for both the wider health and care workforce and citizens in Scotland.
"During the first phase of the pandemic, we paused substantial areas of our routine business, devoting considerable energy to providing new educational resources and redeploying our staff and learners, to support colleagues on the front-line.
"At the same time, it became clear that there was a need to engage in new areas of business for the organisation. NES has adapted not only by creating a large number of new Covid-19 educational resources, but also by working with partners on the development of a number of projects in areas well beyond our normal sphere of work.
"These include our work on the Scottish Government's proximity app, which will be instrumental to the testing regime. We've also been deeply involved in the Covid-19 clinical assessment app, allowing data to be collected at the point of care, in real-time, for better treatment. We also supported the SMS Shielding Service to get over 900,000 groceries and medication boxes to the homes of the most vulnerable people.
"NES was also responsible for the Covid-19 Accelerated Recruitment Portal, which was used to rapidly coordinate and carry out employment checks for over 40,000 returners and students
Looking ahead
"So what does all of this mean for the future of NHS Scotland's workforce? We're mindful of the potential for continuing changes in clinical capacity, the new ways of delivering care that will be required, and the new skills that we'll be asked to support.
"How far, how fast, and in what shape clinical services recover will be fundamental to our work on future postgraduate education - including that which is commissioned from higher education bodies. Similarly, our workforce supply pipelines often depend on undergraduate activity in the university sector - which may suffer disruption in a number of areas. In all these areas, our work with you, our partners, will be fundamental to shaping our response.
"The past seven months have been some of the most professionally challenging I've ever known. However, some of the changes to our services have been extremely positive, particularly around digital developments, collaborative working, and greater flexibility in approach.
"We need to ensure that the recovery and renewal of our education and training is flexible and adaptable and I believe the past six months have shown how capable we all are, working together in partnership. I also remain confident in the ability of our incredible workforce in dealing with this crisis and continue to be enormously proud to be part of NHS Scotland."
---