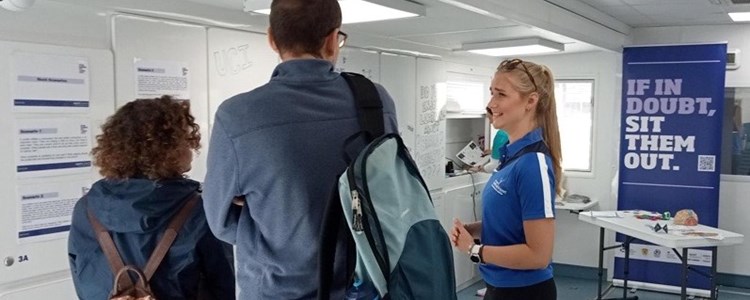 Concussion awareness at 2023 UCI cycling world championships
The 2023 UCI Cycling World Championships provided an ideal opportunity to raise awareness of concussion in sport to a new audience. Working in partnership with NHS Education for Scotland, sportscotland took the "If In Doubt, Sit Them Out" message to the Gran Fondo events at Scone Palace and Dundee.
Using the NHS Scotland Mobile Skills Unit (MSU), the team provided a range of education resources including children's brain health activities, concussion management scenarios to work through, an interactive British Cycling concussion module and a video of World Champion, Katie Archibald talking about the impact of the two serious concussions she sustained and her phased return to training.
Dr Niall Elliott, Head of Sports Medicine at the sportscotland institute of sport, explained the rationale behind the approach:
"The 2023 UCI Cycling World Championships provided a fantastic opportunity to showcase the work that is being done here in Scotland, and across the UK, to raise awareness of the serious issue of concussion in sport.
"While we have had sports concussion guidance in place for a number of years now, the partnership with NHS Education for Scotland allowed us to take that message on the road and really bring it to life. If even one person is now more confident of their ability to recognise and manage a concussion in sport, then that's a win for all of us."
NHS Education for Scotland (NES) CEO Professor Karen Reid said:
"Concussion in sport is a serious issue, and people need to know how to treat it and what to do if it occurs. That's why we're delighted that our Mobile Skills Unit (MSU) was present at the 2023 UCI Cycling World Championships, as part of our partnership with sportscotland.
"At NES we provide education and training that supports better health for the people of Scotland. Our MSU is a state-of-the-art simulation facility which tours Scotland giving healthcare professionals and other people a chance to learn or improve their life-saving skills. We ran sessions for members of the public so that they could understand the latest guidance around concussion. They were able to use our simulator in a range of scenarios and learnt what they need to do to if they're ever called upon."
The initiative builds on the success of the Scottish sports concussion guidance which was a world first when it launched in 2015 bringing together medics, sports, Scottish Government and sportscotland to produce a single concussion policy for all sports. 
In addition to these developments in Scotland, UK-wide sports concussion guidance was launched earlier this year. This collaborative approach is a welcome step in highlighting the importance of protecting brains in sport.
---
Contact: corpcomms@nes.scot.nhs.uk