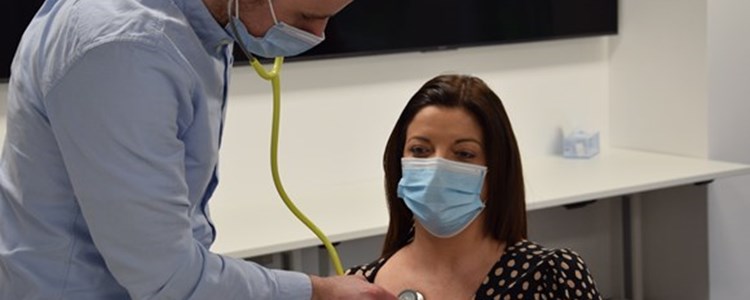 Community pharmacist training aids NHS Scotland Recovery
The NHS Scotland Academy pharmacy training collaboration is supporting NHS Scotland's recovery from the pandemic.

The initiative has improved local access to healthcare for thousands of people across Scotland and is assisting the NHS Scotland Recovery Plan by easing pressure on GPs, out of hours services and local emergency departments.

The NHS Scotland Academy, a partnership between NHS Golden Jubilee and NHS Education for Scotland (NES), has delivered more than 340 delegate days to date.

This provides pharmacists across Scotland with the additional skills required to assess, advise and treat patients for a range of minor illnesses and common clinical conditions to support delivery of the NHS Scotland Pharmacy First Plus service.

Community pharmacist independent prescribers are trained in clinical skills to assess and prescribe treatments for common clinical conditions such as minor infections, symptoms and rashes, among a range of others.

The programme, which has been designed by NHS Education for Scotland (NES) in collaboration with Dundee Institute for Healthcare Simulation, has been successfully delivered by the world-class facilities of the NHS Scotland Academy at NHS Golden Jubilee along with other clinical skills training sites nationally.

Delivered as an accelerated training model, the course teaches a mix of communication and practical skills that are delivered over 3.5 days, with the option to split these days if needed, making it far more accessible to working Pharmacists.

Following the success of the pilot, the NHS Scotland Academy has now increased their capacity to 15 delegates per day to maximise training capacity.
Ian Colquhoun Consultant Cardiothoracic Surgeon at NHS Golden Jubilee and, Interim Medical Advisor for the NHS Scotland Academy, said:
"The NHS Scotland Academy is delighted to be working collaboratively with NES, NHS Golden Jubilee and Dundee to create an effective training model that will assist not only NHS Scotland's recovery, but improve access to healthcare for all.
"The NHS Scotland Academy pilot has been extremely successful and work is now underway to continue this training in regional locations including Aberdeen, Dundee and Lothian.
Although undergraduate Pharmacists will undertake independent prescribing and clinical assessment skills as part of their curriculum to meet the new General Pharmaceutical Council Initial Education and Training standards, many of the pharmacists who have been working in the field did not have locally accessible ways of gaining this clinical training until now."
Professor Anne Watson, NES Pharmacy Dean, commented:
"We are delighted to have the NHS Scotland Academy on board as one of the collaborators delivering our revised clinical skills training programme which will include many community pharmacist independent prescribers as part of our Pharmacy Clinical Skills Collaborative.
This vital training, which supports the NHS Scotland Pharmacy First Plus service, enhances the ability of community pharmacist prescribers to manage common clinical conditions which would otherwise require onward referral to another healthcare professional."
Spokesperson from Dundee Institute for Healthcare Simulation, commented:
"We are glad to continue to collaborate with NES on a longstanding and useful programme for pharmacists and are pleased that the Academy have recently agreed to join the project to deliver the course to pharmacists across Scotland."
Professor Harry McQuillan, Chief Executive Officer, Community Pharmacy Scotland, commented:
"This important development equips our prescribing community-based pharmacists with further skills that allows them to assess and provide NHS care and treatment to the people of Scotland at the point of access through the NHS Pharmacy First Plus service.
This greatly assists our colleagues in primary care as well as out-of-hours clinicians and improves the patient journey through providing care close to home.
We look forward to continue to work with NES, Dundee Clinical Skills Centre and the NHS Scotland Academy in the delivery of these courses."
---