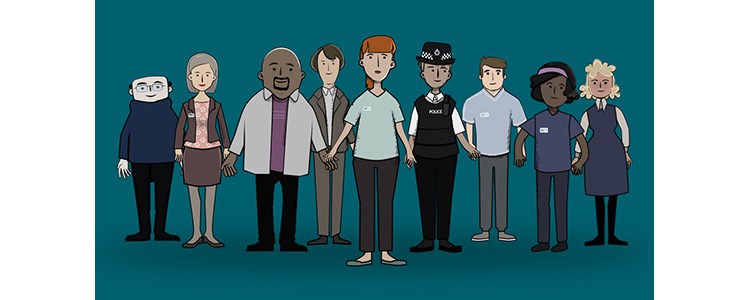 Package of Trauma Informed Care Resources now available
The background

The National Trauma Training Programme (NTTP) includes key trauma training resources, openly available for all members of the Scottish workforce, to meet the vision of:

"A trauma informed and responsive nation and workforce, that is capable of recognising where people are affected by trauma and adversity, that is able to respond in ways that prevent further harm and support recovery, and can address inequalities and improve life chances."

The impact and reach of trauma

It is now well recognised that the experience of trauma and adversity is more common than we often think, and its impact is often not obvious. If you work with people, no matter what your role, you are likely to be working with people affected by trauma.

Although the impact of trauma can make it harder to access the relationships, services and life chances that we all need, we also know that making small changes to how you work can make big differences for the people you work with.

Trauma support resources

The National Trauma Training Programme has two free guided workshops to help you and your team think about the small changes you could make to become more trauma informed and more accessible for people affected by trauma.

The workshops can help you as an individual or as a team to reflect on what you do and how you do it through a trauma lens, and to help you create a plan for applying trauma-informed care to the work that you do.

Each workshop comes with:
a film to guide you through
facilitators' notes which can be used by an individual or by a team, online or face to face
a downloadable form for making your own individual plans
How the workshops impacted on participants and their practice

Opening Doors, is aimed at mainly at staff working with adults
As a result of the workshop, we will "… change the way appointments are offered and (the) location of these. (We will) … revisit all service materials, to ensure information empowers service users and encourages them to feel safe and in control of requested support measures."
We will "… engage in further team sessions, to review our trauma informed response."
I will "… ensure that I do what I say I will do when I will say I will do it. This will show I will respect the client and help to build trust."
The session encouraged us "… to think about what we could stop or change our practice to make our place a safe place for the users."
Sowing Seeds is aimed for staff primarily working with children and young people
"I am recently employed to work within schools so this workshop gave me a good understanding of what to expect in terms of the difficulties young people and their families may be going through just now."
"I would recommend this training to enable others to improve their practice."
Sally Jowett, Principle Educator on the The National Trauma Training Programme (NTTP) in NES, commented on the impact of the trauma informed resources:

"As members of our communities and workplaces, we all have the potential to ensure that trauma creates no barriers to accessing the services and life chances that can support each person on their own recovery journey.

"In my NHS role as a psychologist, people often tell me just how much these trauma-informed interactions have meant to them along the way, from booking their first appointment to finding resources in the community.

"It is incredible to see so many staff across the Scottish workforce becoming trauma-informed in the way that they work, and how small changes can make such a huge difference. Your feedback and sharing our resources through your networks is invaluable at helping us to keep developing, so thank you and hopefully see you at one of our events soon."

All these resources have been combined into a flyer, to make it easy to plan, facilitate, and evaluate a trauma-informed care workshop in your own setting.

Please share this information and resources across your networks.

For more information, please visit The National Trauma Training Programme (NTTP)
---