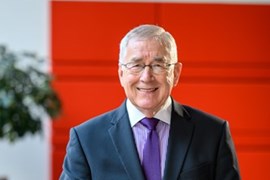 Chair of NES Board
QPM LLD Chartered FCIPD Chair, NHS Education for Scotland
David Garbutt has held Chief Officer roles with Lothian and Borders Police, and Grampian Police, and was awarded the Queen's Police Medal in the 2001 New Year Honours.
He was Assistant Inspector of Constabulary before his appointment as Director of the Scottish Police College between 1998 and 2006.
He has been a member of the Board of the Scottish Leadership Foundation and the Justice Sector Skills Council and has also served as the President of the European Police College.
David has also been an adviser on police reform and transformational change in a number of countries. He is a Chartered Fellow of the Chartered Institute for Personnel and Development.
David was appointed as Chair of the NHS Education for Scotland (NES) Board in April 2018, having previously served as Chair of the Scottish Ambulance Service (SAS) Board for a period of nine years, leading SAS through a significant programme of transformational change and the implementation of a new strategic framework to deliver enhanced patient care.
He is the Chair of the NHS Chairs Quality Portfolio Group and has implemented an extensive Quality Improvement development programme for Executive and Non-Executive Board members.
He currently Chairs the NHS National Performance Management Committee and is a member of the Everyone Matters Implementation Group, the Leadership, Talent Management and Succession Planning Group and the Quality of Care Reviews Expert Reference Group.