Location:
Westport 102, West Port, Edinburgh, EH3 9DN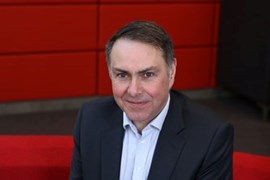 Non Executive Board Member
Douglas joined the NES Board in March 2015. He spent almost 25 years in NHS management and planning, mainly in Glasgow and Lanarkshire, then latterly as Director of Planning and Corporate Affairs of a national NHS Board.
He is a Non-Executive Director of the Scottish Government, a member of the UK Judiciary Appeals Tribunal and is also a director of a small consultancy organisation working mainly with public sector and third sector organisations.
He also supports the Joint Improvement Team and was previously the Vice Chair of the Scottish Association for Mental Health and the Vice Chair of the Care Inspectorate.
Douglas recently co-chaired the Ministerial Task Force on the Future of Residential Care in Scotland, which will shape residential care for older people for the next 20 to 30 years and is passionate about the quality of services offered to the public, particularly the more disadvantaged within society.
Douglas believes he brings a general, non-clinical, wider system perspective to the role, providing an additional understanding to national issues.
He is married, lives in South Lanarkshire and has a son training as a doctor in Scotland.